LAB Group Riding Skills
Bicycle Safety Class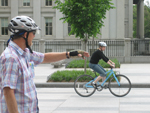 Have fun and be safe while sharing the road with 13,000 of your best cycling buddies! This course will prepare you for the unique experience of the largest charity ride of its kind in the nation. Course includes basic rules of the road, lane positioning, communication skills, fixing a flat, proper helmet fit,and more. Practice scanning, emergency stopping, obstacle dodge, and riding in large groups. This is a great three hour course!
Class Details:
Dates:
All Classes Closed

Location:
April 4, 2020 class
Hewlett Packard Enterprise
11445 Compaq Center W Dr
Houston, Texas 77070
Map


Cost:
$30
Agenda:
Class is part classroom and part on bike.
Registration:

Pre-registration, including payment, is required.
Registration closes at noon on the Friday before the class.
A reminder/confirmation email will be sent after registration closes.
Already registered but forgot to pay? click here!
Registration fee is non-refundable.
What to bring:
Be sure to bring your bike, helmet, plenty of fluids
Questions?
If you have any questions or need to change your registration,
please contact Vanessa Bissey-Beard via email.