LAB Group Riding Skills
Bicycle Safety Class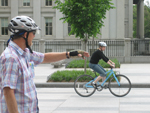 Have fun and be safe while sharing the road with 13,000 of your best cycling buddies! This course will prepare you for the unique experience of the largest charity ride of its kind in the nation. Course includes basic rules of the road, lane positioning, communication skills, fixing a flat, proper helmet fit,and more. Practice scanning, emergency stopping, obstacle dodge, and riding in large groups. This is a great three hour course!